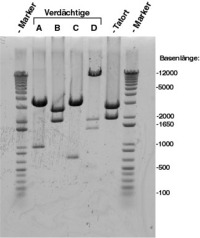 10th Grade, 11th Grade, 12th Grade
Related Academic Standards
Have students go to http://www.pbs.org/wgbh/nova/sheppard/analyze.html (create a DNA fingerprint webpage) and read the introduction.
Have them click on Part 1: It takes a lickin' . Students should read the introduction to this before they start the activity. In their notebook, students should write down key points or clues about the suspect.
Students can start the activity by clicking at the bottom of the page on the link that says, Part 2: DNA fingerprinting in the NOVA lab.
In this section, students will read the directions and manipulate the simulation to create a picture of the DNA.
After each movement, a screen will appear telling students why they did what they just did. In their notebook, have students summarize each part of the fingerprinting process.
In the last section, students will have to match the DNA from their fingerprint to the DNA of one of the suspects. Have students record if they got the suspect right on the 1st try, 2nd try, etc.
When they are finished, you can have students go to the DNA workshop to review DNA replication, translation, and transcription.
This website allows students to "solve a mystery" by using DNA fingerprinting. Students will get to read about the importance of DNA fingerprinting and how it is used today. Students will be walked through the simulation of running a gel to compare DNA samples. This is a great alternative if your classroom does not have electrophoresis materials. Students can also review DNA and RNA replication through an interactive activity.
For students to learn about the process of DNA fingerprinting and how it is used in science labs today.
You can collect the summaries from students at the end of the activity and grade it appropriately. This activity can be more of a review than an assignment for the students.